Customizing Tax And Duty Override Settings In Shopify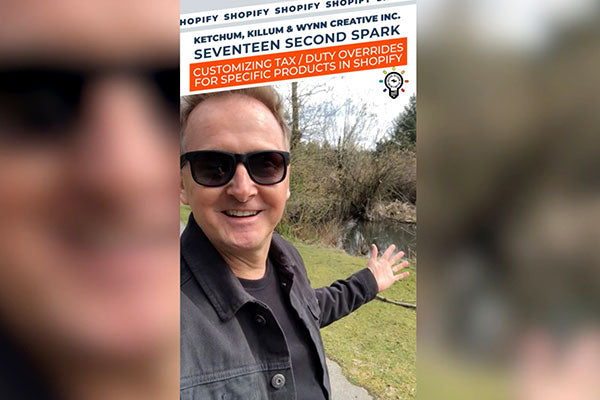 In today's Seventeen Second Spark we are going to show you how to customize your tax override settings in Shopify. British Columbia recently updated / increased their tax settings on liquor sales. We received about 35 frantic calls or emails requesting help to adjust / update the tax settings without screwing up all of the other tax settings. Below is how you do it in under 10 steps.
To create a tax override in Shopify, you can follow these steps:
Log in to your Shopify admin account.
Click on the "Settings" tab in the bottom left corner of the screen.
From the Settings menu, select "Taxes and Duty".
Select the Country / Region for which you want to create the tax override.
Scroll down to the "Tax overrides" section and click "Add product override".
Select the province or state for which you want to create the tax override.
Enter the name of the product or collection for which you want to create the tax override. If it's a large amount of products, make a manual collection first then select that.
Enter the tax rate that you want to apply to the product or collection.
Save your changes.
Once you have created the tax override, the tax rate you specified will be applied to the selected product or collection instead of the default tax rate for the location. Note that you will need to create a separate tax override for each product or collection that you want to apply a different tax rate to.
I hope this help understand Tax Overrides, how powerful they can be and how useful they are. If you have any questions, or if you'd like to sign up for a monthly maintenance plan where we manage this sort of stuff for you, please don't hesitate to call us at 604 655-5592 OR pick a plan here: 
https://ketchumkillumandwynncreative.com/products/your-dedicated-shopify-expert-support-and-maintenance-plans