How to Grow Your Shopify Business in 2023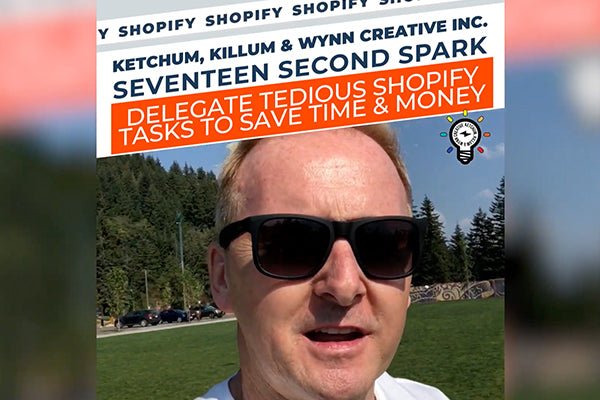 In today's Seventeen Second Spark we wanted to remind everyone that the key to running any business, no matter how big, is Delegation.

Delegate: /ˈdeləˌɡāt/
Entrust (a task or responsibility) to another person.

It's the end of Summer, the kiddies are heading back to school (which increases your home like work load), and Black Friday is just around the corner. Face it, you are busy or you're just about to get busier. This post-pandemic world we live in is tough and it is VITAL that you grow, or keep growing, your company. 
The only way to do this is to delegate all of the day-to-day tasks, on your Shopify website, to a Shopify professional...like us. Look no further than our Subscription based, Dedicated Shopify Expert Monthly Maintenance Plans. Yes, you read that right. You can subscribe to a monthly plan to speak directly to your Dedicated Shopify Expert any time* you have a question. We offer Standard and Custom Monthly website maintenance plans that take the burden of the tedious task, no matter how big or small, off of your plate so you can focus on running your business. The benefits of delegating tasks is that it frees up your time to do want you want to do, not NEED to do.
Here is an example of the tasks we can manage for you:
Daily, weekly, or monthly home page / site image updates
SEO management
Daily, weekly, or monthly product creation
Promotion scheduling complete with email blast design and deployment
Daily, weekly, or monthly Inventory management using Shopify's native Inventory system or something robust like KATANA MRP Inventory Software (We are Certified IMPLEMENTATION and INTEGRATION PARTNERS)
Website Product and Collection management with Navigation integration
Daily, weekly, or monthly product description copywriting
Emergency Shopify assistance hotline phone number - call anytime if you have questions or need help
In studio Product image / video capture and photo / video editing services
Marketing assistance / email creation / SEO advice
Anything else to help you run your business
Plans start at just $100 a month and it's more cost effective that hiring another employee with all the forms, and NDA's, and what not. Cancel your plan anytime.

Explore our Dedicated Shopify Expert Support Plans here or call us directly to ask any questions. 
Your Dedicated Shopify Expert Support & Maintenance Plans

If you haven't started a Shopify store yet, check this out. Want training on how to plan, design and launch a Shopify business in less than a week? You should register for our Certified Shopify Business Development Training Program