How to Increase Shopify Conversions By Using One Simple Trick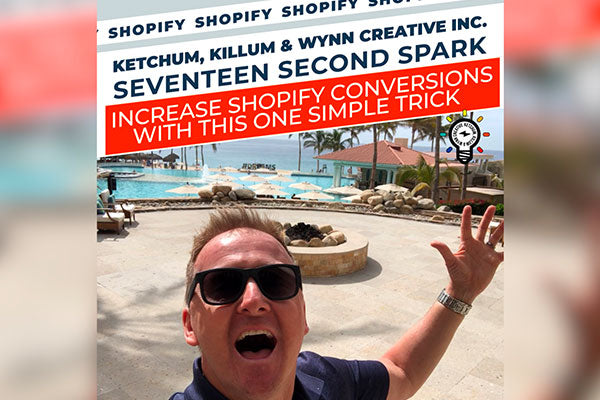 In today's Seventeen Second Spark we are going to help increase the conversions on your Shopify website. The easiest way to increase conversions is to make your website as visually attractive as possible the second a customer visits. Use a visually appealing color scheme, high-quality images and videos, and a clean and organized layout. Take the customer on a journey down the page that opens up more imagery and info, just like a luxury hotel foyer.
Use big, beautiful images that showcase your products or services well. Make the writing easy to read and understand and mention the benefits over the features.
There are several more ways to make a website as appealing as possible:
Make it easy to navigate: Ensure your website has a clear and organized navigation menu, and make sure it's easy to find the information visitors are looking for.

Optimize for speed: A slow website can be frustrating for users. Optimize your website's loading speed by compressing images and using a fast web host.

Use clear and concise copy: Make sure your copy is easy to read and understand, and avoid using jargon or complex language.

Make it mobile-responsive: With more and more people using mobile devices to browse the web, it's important that your website is optimized for mobile screens.

Use social proof: Highlight customer reviews and testimonials to build trust with your visitors.

Keep it up to date: Make sure your website is regularly updated with fresh content, and fix any broken links or outdated information.
Overall, the key is to create a website that is user-friendly, visually appealing, and informative. By following these tips, you can make sure your website is as appealing as possible to your visitors.
Please follow us on social media and subscribe to be notified when more content gets posted. If you'd like to start your own Shopify store for FREE, click this link - https://shopify.pxf.io/2rmOKA
Want training on how to plan, design and launch a Shopify business in less than a week? You should register for our Certified Shopify Business Development Training Program - http://bit.ly/2QbekH4