The Benefits of Outsourcing the Management of your Shopify Ecommerce Business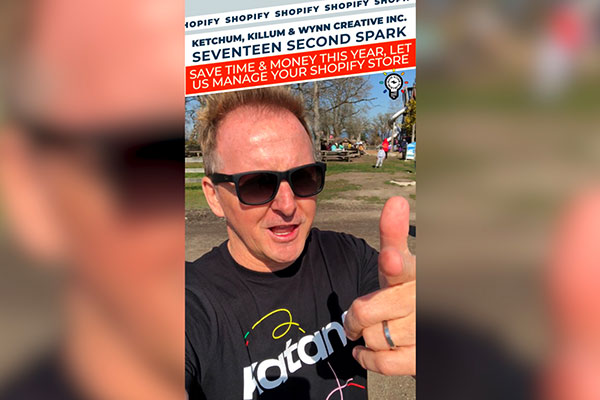 Hey Gang, in today's Seventeen Second Spark we wanted to remind everyone that we offer monthly Shopify Maintenance and Support plans that free your time during your Summer Vacation. Think of it as outsourcing the tedious tasks so you can focus on growing your business, taking a break or working on your next business.
Outsourcing the management of your Shopify eCommerce business, in 2023 and 2024, can have several benefits, including:
Cost Savings: Outsourcing can be cost-effective as it can help you save on salaries, benefits, and other expenses associated with hiring a full-time in-house team.

Time-Saving: Outsourcing can free up your time to focus on other aspects of your business. This can be especially helpful if you are a small business owner or do not have the resources to manage your eCommerce business on your own.

Access to Expertise: When you outsource eCommerce management with us, you gain access to our team of experts, at Ketchum, Killum & Wynn Creative inc., who are knowledgeable about the latest trends and technologies. We can help you optimize your online store, improve customer experience, and increase sales.

Scalability: Outsourcing eCommerce management allows you to quickly scale your business up or down without having to worry about hiring or laying off employees.

Improved Efficiency: An experienced outsourcing partner, like Ketchum, Killum & Wynn Creative Inc., can help you streamline your operations, reduce errors and improve your overall efficiency.

Access to Latest Tools and Technologies: Outsourcing eCommerce management can provide you with access to the latest eCommerce tools and technologies without the need to invest in expensive software or infrastructure. We got you covered!
Overall, outsourcing the management of your Shopify eCommerce business, using the highly skilled and credibly team at Ketchum, Killum & Wynn Creative Inc., can help you save time and money, access expertise and technology, and scale your business more efficiently. 
We can tailor a plan specific to your stores needs. If you only need products added, or orders fulfilled, we can do that? Need inventory management? We can manage that for you too. Explore our out-of-the-box plans here!